VHF Logging Road Radios British Columbia
RR Channels - VHF Logging Road Channel List
Radio Channel & Safety Information
Timberline Radio Systems Ltd. sells Logging Road Safety Radios to commercial road users in the province of British Columbia & Alberta.
Safety is Key when traveling any resource road across Canada, but especially in provinces with rough terrain, such as British Columbia and bordering areas with Alberta.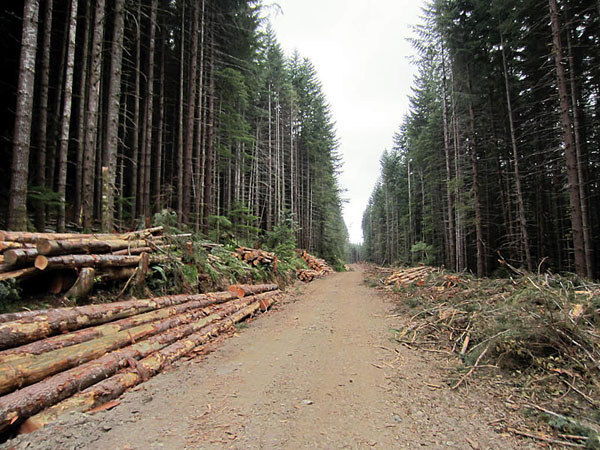 Many of Canada's most trafficed resource roads are in this region.
As a supplier of two way radio equipment and radio repeater systems, we believe that education sourrounding new communications protocols on these roads is very important in order to maintain a satisfactory level of safety.
Recently, the Province of BC, in conjuntions withWorksafeBC and Industry Canada adopted a new set of resource road channels for all users of resource roads across Canada and especially in the Province of BC.  Here is a list of those frequencies. 
| Channel | Frequency (MHz) | Restrictions |
| --- | --- | --- |
| LD-1 | 151.700 |   |
| LD-2 | 151.745 | Not to be used within 64 km of the Southern British Columbia border, within 50 km of Ketchikan, Alaska, or within 200 km of Juneau, Alaska. |
| LD-3 | 151.790 | Not to be used within 20 km of Victoria, British Columbia |
| LD-4 | 151.805 | Not to be used within 64 km of the Canada-United States border |
| LD-5 | 151.850 | Not to be used within 85 km of Petersburg, Alaska |
| Channel | Frequency (MHz) | Restrictions |
| --- | --- | --- |
| RR-01 | 150.080 |   |
| RR-02 | 150.110 |   |
| RR-03 | 150.140 |   |
| RR-04 | 150.185 |   |
| RR-05 | 150.200 |   |
| RR-06 | 150.245 |   |
| RR-07 | 150.260 |   |
| RR-08 | 150.320 |   |
| RR-09 | 150.365 |   |
| RR-10 | 150.410 |   |
| RR-11 | 150.440 |   |
| RR-12 | 150.500 |   |
| RR-13 | 150.530 |   |
| RR-14 | 150.545 |   |
| RR-15 | 150.560 |   |
| RR-16 | 150.590 |   |
| RR-17 | 150.680 |   |
| RR-18 | 150.710 |   |
| RR-19 | 150.770 |   |
| RR-20 | 150.830 | Not to be used within 64 km of Alaska State |
| RR-21 | 151.010 | Not to be used within 64 km of the Canada-United States border |
| RR-22 | 151.130 | Not to be used within 64 km of the Canada-United States border |
| RR-23 | 151.190 | Not to be used within 64 km of the Canada-United States border |
| RR-24 | 151.220 | Not to be used within 64 km of the Canada-United States border |
| RR-25 | 151.310 | Not to be used within 64 km of the Canada-United States border |
| RR-26 | 151.340 | Not to be used within 64 km of the Canada-United States border |
| RR-27 | 151.370 | Not to be used within 64 km of the Canada-United States border |
| RR-28 | 151.430 | Not to be used within 64 km of Alaska State  |
| RR-29 | 151.460 | Not to be used within 64 km of the Southern British Columbia |
| RR-30 | 151.490 | Not to be used within 64 km of the Canada-United States Border |
| RR-31 | 151.520 | Not to be used within 64 km of the Canada-United States Border |
| RR-32 | 151.580 | Not to be used within 64 km of the Canada-United States Border |
| RR-33 | 151.610 |   |
| RR-34 | 151.640 | Not to be used within 64 km of Washington State |
| RR-35 | 151.670 | Not to be used within 20 km of Victoria, British Columbia |